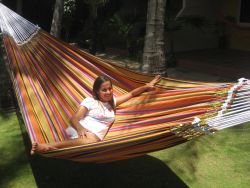 Our hammocks are mainly made in the state of Ceará in Northeastern Brazil, the most important center of hammock production in Brazil.
In Brasil a lot of people sleep in hammocks all year round. So these Brasilian hammocks are made to be comfortable and durable.
Our Brazilian hammocks are made from 100% coton. They are available in different sizes and types.
The small hammocks have a bed dimension of 220cm X 120 cm, while for the larger hammocks this will be 230cm X 165cm or more.
As you may notice from our pictures, we don't have the brazilian style hammocks with a wooden separator on each end. The brazilians always lay diagonally in the hammock thereby spreading the hammock out.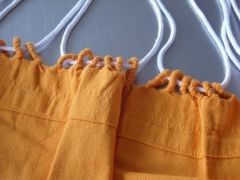 The Ceara
De Ceara is our smallest hammock. With a simple but nice finish.
An excellent choice. A good hammock for a very competitive price. Sizes can differ a little bit per type.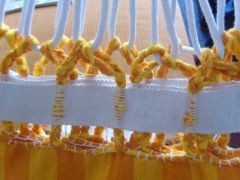 The Mucuripe
Beautiful, middle size hammock.
Available in several colors and patterns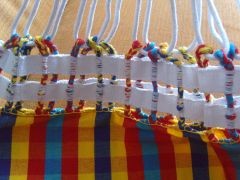 The Icarema
Large hammock, with nice handmade finish.
A perfect choice for a good price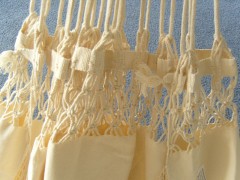 The Remanso
Large hammock with the same size as the Icarema, but with a macramé finish. Some remanso's also have a a hand crocheted fringe.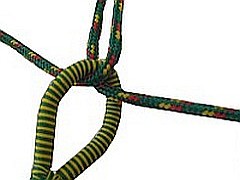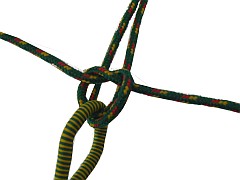 Wrap a rope around a hook or tree, so you have to equal ends.
Insert each end of the rope to the eye of the hammock, as you can see on the picture.
Make a single knot, as on the second picture.
Pull on both end until the hammock is on the right heigth.
Ready!!!!!!!
p>Do never climb in the hammock with your feet first. Stand with your back to the hammock and sit down.
Pull your feet into the hammock and lay down.